"MERLIN" TCM-5000: High Speed Cutting, Grinding, Cleaning, and Re-Instating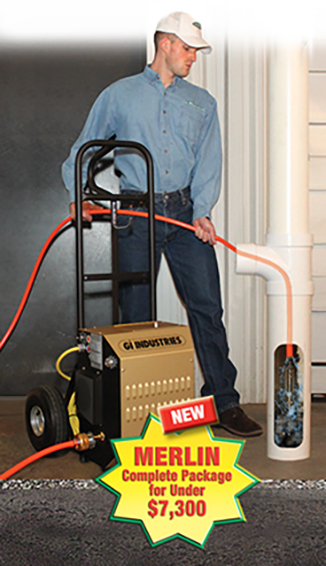 Please Note: Applications and documentation are in PDF format. To view any PDF document, you need to have Adobe® Acrobat Reader® on your computer.
Get Adobe Acrobat If you do not have this program, you may download it for FREE by clicking on the icon below:

Our newest, Ultra-High Speed Pipe Cleaning Machine!
The TCM-5000 is our newest Heavy Duty pipe cleaning machine that is designed for high speed grinding/cleaning. It features a high-torque electric motor that spins the brush at various speeds from 0-1750 rpm and maintains constant torque.  Excellent for multi- tools which require higher speeds. It is designed with a soft-start circuit that reduces operator fatigue and machine wear, giving you more control cleaning all pipes from ½"-24".  Removing deposits is easy with our unique Air/Water Flushing at the brush head.  As the brush spins, compressed air/water comes out of the brush-head to remove debris fast.


TCM-5000 The "Merlin" - Specifications
Horsepower:
3/4 HP, High Torque
Power:
Single Ph, 110v 60/50hz
or 220V 60/50hz ,5 amps
Transmission:
Forward/Reverse/Neutral
Overload Protection:
Resettable
Flexible Shaft Speed:
0 – 1,750 rpm (High Torque)
Belt-drive system
Control Foot Switch:
Pneumatic 20' long
-activates shaft rotation and Air/Water flow
- forward/neutral/reverse rotation by hand switch
24' GFI Cord:
Shock Protection (Ground Fault Circuit)
Weight (dry):
45 lbs. cabinet/drive unit
Dimensions:
Cabinet: 19" x 15.5" x 10.75"
Frame: 46" x 21" x 17"
CONTRACTOR'S PACKAGE
COMPLETE CONTRACTOR'S PACKAGE
TCM-5000 Contractor's Package
| | |
| --- | --- |
| 1 - TCM-5000 Drilling/Reaming | 1 - Expandable Root Cutter |
| 1 - Flexible Shaft 100' | 1 - Complete maintenance set |
| 1 - Flexible Shaft 50' | 2 - Universal tool attachments |
| 1 - 4" Pipe Cutter "Re-instater" | 1 Freight included |
| 1 - 4" Flex Hone 40 grit abrasive | |
Complete System Under $7,246.35
PIPE CLEANING
WHAT MAKES OUR TCM-5000 SERIES BETTER?
Variable Speed Control
Slow for drilling Fast for grinding
Water/Air Flushing
Moves debris out faster Cools cutting head
Forward/Reverse and Neutral Controls
Forward for drilling Reverse for polishing Neutral for dislodging
Powerful Electric Motor
3/4 hp, draws only 9 amps
Light Weight
Easy to transport