The TCM-4000 "WIZARD"…. Cutting, Grinding, Cleaning, and Re-Instating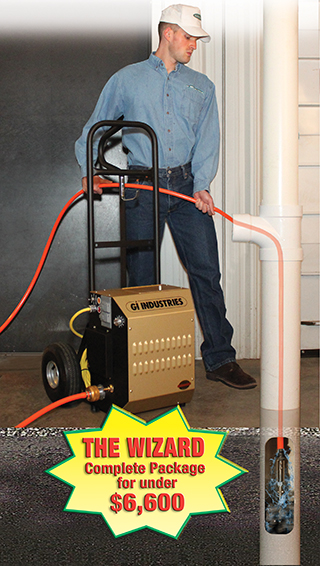 Please Note: Applications and documentation are in PDF format. To view any PDF document, you need to have Adobe® Acrobat Reader® on your computer.
Get Adobe Acrobat If you do not have this program, you may download it for FREE by clicking on the icon below:

This innovative product has set the new standard in plumbing!
The TCM-4000 not only spins the cutting head at various speeds, but simultaneously flushes debris with either water or compressed air at the brushhead. Our Heavy Duty cleaning machine features an electric motor with brush speeds from 0-1750 rpm and maintains constant torque. It is designed with a soft-start circuit that reduces operator fatigue and machine wear, giving you more control cleaning all pipes from ½"-48″. Removing deposits is easy with our unique Air/Water Flushing at the brush head. As the brush spins, compressed air/water comes out of the brush-head to remove the debris fast.
"New" To give the operator more control in cleaning, GI Industries has designed a switch which will allow the operator to choose Rotation, Reverse Rotation, or Neutral for just flushing with compressed air or water.

TCM 4000 Specifications
Horsepower:
3/4 HP, High Torque
Power:
Single Ph, 110v 60/50hz
or 220V 60/50hz, 5 amps
Transmission:
Forward/Reverse/Neutral
Overload Protection:
Resettable
Flexible Shaft Speed:
0-862.5 rpm (High Torque)
Belt-drive system
Control Foot Switch:
Pneumatic 20' long
- activates shaft rotation and Air/Water flow
- forward/neutral/reverse rotation by hand switch
24" GFI Cord:
Shock Protection (Ground Fault Circuit)
Weight (dry):
45 lbs cabinet/drive unit
Dimensions:
Cabinet: 19" x 15.5" x 10.75"
Frame: 46" x 21" x 17"
CONTRACTOR'S PACKAGE
COMPLETE CONTRACTOR'S PACKAGE
Part Number-TCM4000
| | |
| --- | --- |
| 1 - TCM-4000 Drilling/Reaming | 1 - Expandable Root Cutter |
| 1 - Flexible Shaft 100' | 1 - Complete maintenance set |
| 1 - Flexible Shaft 50' | 2 - Universal tool attachments |
| 1 - 4" Pipe Cutter "Re-instater" | 1 - Freight included |
| 1 - 4" Flex Hone 40 grit abrasive | |
Complete System Under $6,500
PIPE CLEANING
WHAT MAKES OUR TCM-4000 SERIES BETTER?
Variable Speed Control
Slow for drilling
Fast for grinding
Water/Air Flushing
Moves debris out faster
Cools cutting head
Forward/Reverse and Neutral Controls
Forward for drilling
Reverse for polishing
Neutral for dislodging
Powerful Electric Motor
3/4 hp, draws only 5 amps
Light Weight
Easy to transport