Custom Design . . .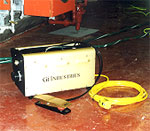 Please Note: Applications and documentation are in PDF format. To view any PDF document, you need to have Adobe® Acrobat Reader® on your computer.
Get Adobe Acrobat If you do not have this program, you may download it for FREE by clicking on the icon below:

GI Industries is known for handling special or difficult applications. From the beginning, we have established a department for building and designing products for unique applications. These custom machines and systems are built on time and on budget.
Fax over your diagram or call us at: (203) 452-1944.
GI delivers quality parts
at competitive prices.
Short or

Production

Runs!
Past Designs/Products
Quiet Vacuums for Pharmaceutical
Private Labeling Products
Pipe Cleaning Systems
Customized Flexible Shafts
Join Our Satisfied Customers!
Our engineers will design, engineer, and build an existing part or create one for you.
Customization