Dual Purpose Boiler/Chiller Machine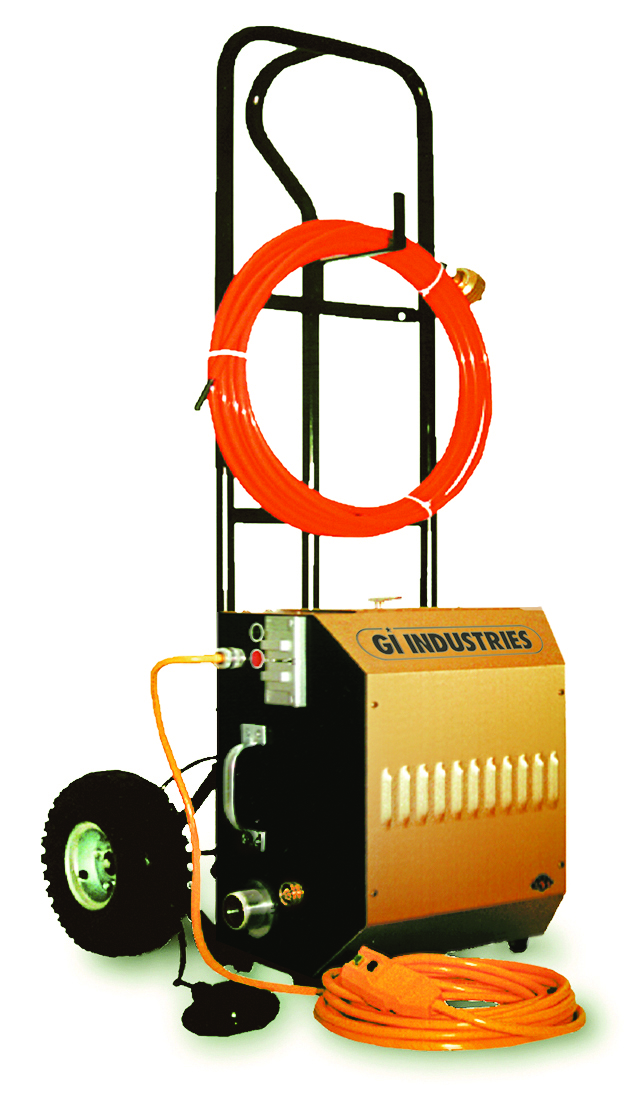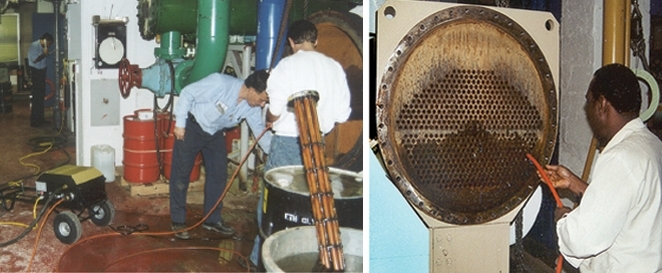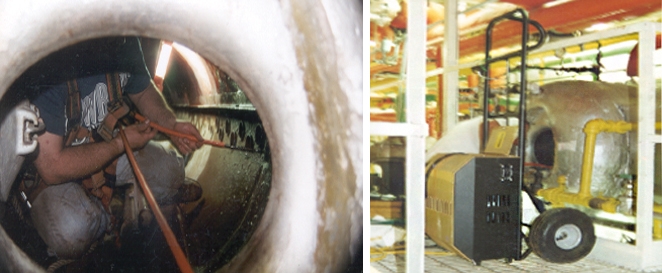 Please Note: Applications and documentation are in PDF format. To view any PDF document, you need to have Adobe® Acrobat Reader® on your computer.
Get Adobe Acrobat If you do not have this program, you may download it for FREE by clicking on the icon below:

The TCM-1000H
If you have both Boilers and Chillers to clean, the TCM-1000H is the right product. This innovative system thoroughly cleans firetube/watertube boilers and all chillers, condensers etc. The TCM-1000H spins the brush inside the tubes and breaks the deposits from the tube walls. Negative Air flow from the vacuum removes the deposits quickly and efficiently. Operators stay clean.
To clean chillers, disconnect the vacuum, change the flexible shaft/brushes and attach the water hose. You are ready for chiller cleaning.

TCM 1000H Specifications
Horsepower:
1 HP, forward/reversible
Power:
Single Ph, 115v 60HZ
13.5 amps
Service Factor:
1.15
Power Cord:
24' with GFI
Footpedal:
10' pneumatic
Flexible Shaft Speed:
862.5 rpm (high torque)
Weight (dry):
44 lbs. cabinet/drive unit
22 lbs. – frame/dolly
Dimensions:
Cabinet
19" x 15.5" x 10.75"
Frame/Dolly
46" x 21"x 17"
CONTRACTOR'S PACKAGE
COMPLETE CONTRACTOR'S PACKAGE
Part Number-TCM1001H
| | |
| --- | --- |
| 1-Boiler/Chiller Machine | 1-Boiler Flexible Shaft 25' |
| 1-Chiller Flexible Shaft 25' | 2-Carbon Steel Boiler Brush 2" |
| 24-Nylon Brushes 5/8" | 24-Polish/Cleaning Brushes |
| 1-BTA 100 Boiler Gun | 1-Shaft Lubricant |
| 4-Lubricating Fluid (8oz. ea.) | 1-Repair Crimping Block |
| 4-Tool Repair Coupling | 4-Drive Repair Coupling |
| 1-Commercial Boiler Vacuum | |
Complete System Under $4,500
Tube Cleaning
What makes our Dual Purpose machine better?
Clean both Boilers & Chillers
Spins Brush Twice as Fast
Thorough scrubbing, better cleaning.
Pumps 60% More Water
Moves debris out faster.
Forward/Reverse Controls
Easier for operator and better cross scrubbing on walls.
Heavy Duty Frame
Easy to transport.
1-HP Motor
Strong and powerful.
Heavy Duty Seals
Longer life.
Self-centering Steel
Flange Bearing, smoother running.